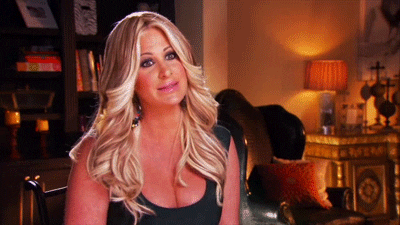 It's official, Kim Zolciak-Biermann is returning to RHOA for season 10.
Kim confirmed via her Instagram on Tuesday that she will be returning but she won't be holding a peach – instead she'll be joining the ladies for the second half of the season whilst her main priority will be her solo series, Don't Be Tardy.
Don't Be Tardy has been on the air for five seasons now and it was announced earlier this year that it had been renewed for a sixth season, so kudos to Kim and her crazy clan. Not many solo reality shows see success but with season five averaging out at 2 million viewers per episode, we can see why she still wants to ride solo. Catch that cheque, Kim!
Personally I'm absolutely buzzing to see her back in the mix with the rest of the cast, especially knowing that her original cast member and old time frenemy Nene Leakes is back full time. We'd all love to see another throwdown on a tour bus.
There's so many different storylines she could have – who's she gona beef with first? And as good as the showdown with Kenya at the end of last season was, I hope she doesn't go straight for Kenya – feels a little manufactured. The fans want to see some vintage rivalry with Nene, Kandi, or maybe even Sheree?
So many questions yet so long to wait for answers!